Our Lady's message given to Dory Tan - October,1st 2016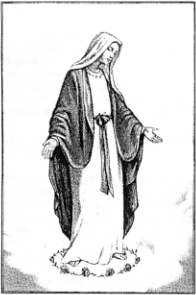 Sharing from Dory Tan on October 1st, 2016 in Marmora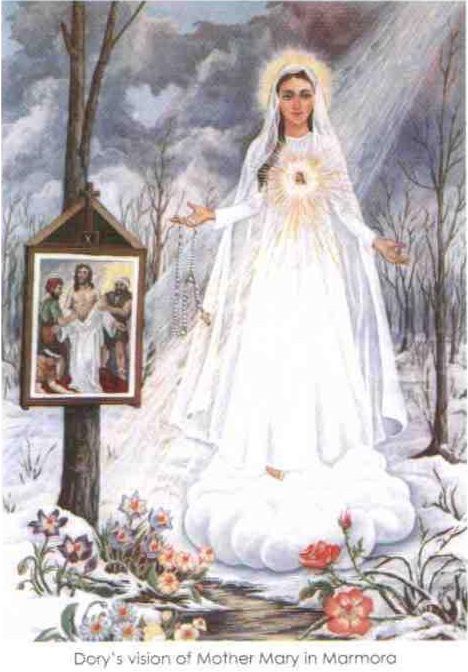 On this First Saturday at the Tenth Station Dory shared this with

us;
Today Dory said that she had been feeling down and sad for most of the week. She said that it was not because of her pain in her shoulder and arm or that her husband is still not completely well. She was feeling down because of the many people that need prayers for their illnesses and problems. Dory was praying and asking God what more she could do for them so they would get their answer. She felt that her prayers were useless and not being answered. She even felt like giving up doing her Mission because she was embarrassed to take the money for the people in the Philippines and hoped that she would be able to support this Mission on her own. Dory assured us that she would never give up her prayers and that Jesus and Our Blessed Mother know that she will continue to pray for all of us until the end.
When Our Blessed Mother appeared to Dory She was smiling and said,
"My child don't let the enemy get you. Me and My Son Jesus are always with you. Don't let the enemy come to you. Every single thing that you are doing, the Mission, your prayers and the advise that you give to your brothers and sisters I want you to continue the way you are and to not stop."
It is the same for all of us. The enemy is waiting around every corner trying to stop all that we are doing. Our Blessed Mother wants all of us to be ready and to stay strong in our faith because at any time the enemy can come to any one of us.
When Dory was feeling sad today Our Blessed Mother reminded her of the words that The Infant Jesus gave to her. She said,
"My Child remember what My Son said to you. Your prayers are important. He is putting your prayers in His Holy Hands. Do not worry, it is up to your brothers and sisters if they decide to give up. Pray more for them so that they do not give up. My child Me your Mother and Mother of all, am asking you to continue with what you are doing. To all of the people that are supporting you in your Mission, it is their Mission too and they will be credited for what they are doing. Everything that you are praying for them is written in My hands and the hands of My Son Jesus and they will receive double in Heaven."
Dory is reminding us that we are all temporary here on this earth and whatever illnesses or problems we have, never say to Our Lord and Our Blessed Mother, why did this happen to me. Just accept and offer up everything to Them. Dory was reminded today that her prayers are not wasted but are put in the Holy Hands of Our Lord Jesus.
Our Blessed Mother allowed Dory to use our brother Joe who is in Heaven as an example for us today. Joe said to Dory,
"Ate, don't give up. Continue the same as you did for me. I am watching all of you and praying for all of you. Please Ate don't give up what you are doing."
We all have to stay strong now and continue with what we are doing so that one day we will all be together in Heaven.
There are many signs happening in the world now. God gave us a sign at our last prayer meeting on September 17th. He gave us a sign of His Holy Cross in the sky over the house where we were praying. This sign is for all of us.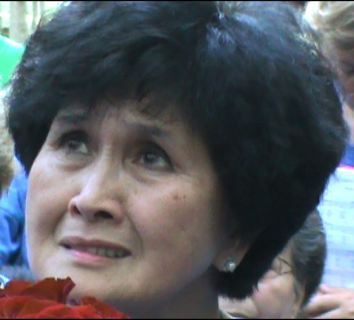 Dory ends by saying; "God bless us all."
Dory will once again be doing the Mission in the Philippines and will not be in Marmora on First Saturday of November. She will return to Marmora on First Saturday of December and also on December 8th. She has promised to keep all of us in her prayers and she asks us to keep her in our prayers as well.
Feast of the Holy Rosary 2016
On October 7th The Feast of the Holy Rosary Dory received this message from Our Blessed Mother for all of us. Our Blessed Mother said, "The most important way to save your soul is through the Mass, prayer, by showing love for one another and action. Pray the rosary from your heart. The rosary is your protection from the enemy. There is distraction around every corner and the enemy is trying to stop the good that you are doing. Do not lose your faith but continue with what you are doing. I am your Mother and Mother of all. If you follow what I have asked I promise to bring you to My Son Jesus in Heaven. I love you all My children."
Dory ends by saying; "God bless us all."
NOTICE : The next pilgrimage from Montreal to Marmora will be on December 3rd, 2016. Price is 35$ in a coach bus of 56 passengers. Call Jean-Claude Papin tel. 450-970-1659. Thank you!!!