Novena St. Joan of Arc May 22-30 - Days : 3 and 4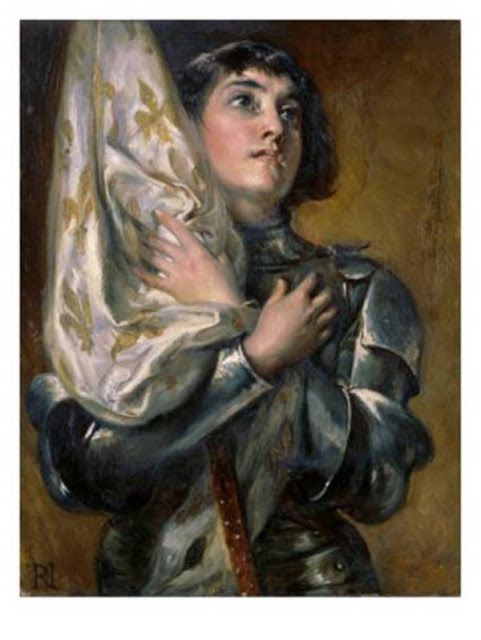 Feast Day: May 30

Preparatory Prayer
Almighty and eternal God! With lively faith and reverently worshiping Thy divine Majesty, I prostrate myself before Thee and invoke with filial trust Thy supreme bounty and mercy. Illumine the darkness of my intellect with a ray of Thy heavenly light and inflame my heart with the fire of Thy divine love, that I may contemplate the great virtues and merits of Saint Joan in whose honor I make this novena, and following her example imitate, like her, the life of Thy divine Son.
Moreover, I beseech Thee to grant graciously, through the merits and intercession of this powerful Helper, the petition which through her I humbly place before Thee, devoutly saving, "Thy will be done on earth as it is in heaven." Vouchsafe graciously to hear it, if it redounds to Thy greater glory and to the salvation of my soul. Amen.

Prayer in Honor of St. Joan of Arc
O God, who didst grant to Saint Joan strength and constancy in the various torments which she sustained for our holy faith, we beseech Thee to preserve, through her intercession, our faith from wavering and doubt, so that we may serve Thee with a sincere heart faithfully unto death. Through Christ our Lord. Amen.

Invocation of St. Joan of Arc
Faithful servant of God and invincible martyr, Saint Joan, favored by God with the gift of faith, and inflamed with an ardent love of Christ, thou didst fight valiantly against the darkness of pride, falsehood, and deceit. Neither pain nor torture, flames nor death could part thee from the love of Christ. I fervently implore thee for the sake of this love to help me by thy intercession to overcome the temptations that surround me, and to bear bravely the trials that oppress me, so that I may patiently carry the cross which is placed upon me; and let neither distress nor difficulties separate me from the love of Our Lord Jesus Christ. Valiant champion of the Faith, assist me in the combat against evil, that I may win the crown promised to them that persevere unto the end.

Prayer (Say this prayer to open each day.)
My Lord and my God! I offer up to Thee my petition in union with the bitter passion and death of Jesus Christ, Thy Son, together with the merits of His immaculate and blessed Mother, Mary ever virgin, and of all the saints, particularly with those of the holy Helper in whose honor I make this novena.
Look down upon me, merciful Lord! Grant me Thy grace and Thy love, and graciously hear my prayer. Amen.

Let Us Pray

Day Three:
Beloved Saint Joan, you faced three trials in your life. The first, a man claimed you were betrothed to him, the second at Poitiers, and the third at Rouen. In each trial you waited on God's Spirit to place on your tongue the right things to say in your defense. The first, you defended your betrothal to your Lord Jesus Christ. The second, you confirmed your purity with eloquence that amazed your questioners. The third, you baffled the learned councilors sent to try you and gave further proof of your purity with prophetic utterance. I pray to be that pure of heart that each of my words are those placed there by the Holy Spirit.
Saint Joan, compliant to the call of God, pray for me.
Say one Our Father, 3 Hail Mary, One Glory Be.

Day Four:
In the face of your enemies, in the face of harassment, ridicule, and doubt, you held firm in your faith. Even in your abandonment, alone and without friends, you held firm in your faith. Even as you faced your own mortality, you held firm in your faith. I pray that I may be as bold in my beliefs as you, St. Joan. I ask that you ride alongside me in my own battles. Help me be mindful that what is worthwhile can be won when I persist. Help me hold firm in my faith. Help me believe in my ability to act well and wisely. Amen.
Saint Joan, one with God in action, pray for me.
Say One Our Father, 3 Hail Mary, One Glory Be.

Lamb of God Who takes away the sins of the world, have mercy on me.
Lamb of God Who takes away the sins of the world, have mercy on me.
Lamb of God Who takes away the sins of the world, grant me peace.
Amen.