The Betrayer - Father Melvin - June 02, 2014 – … remember always … that Holy Thursday of Holy Week is a very important day …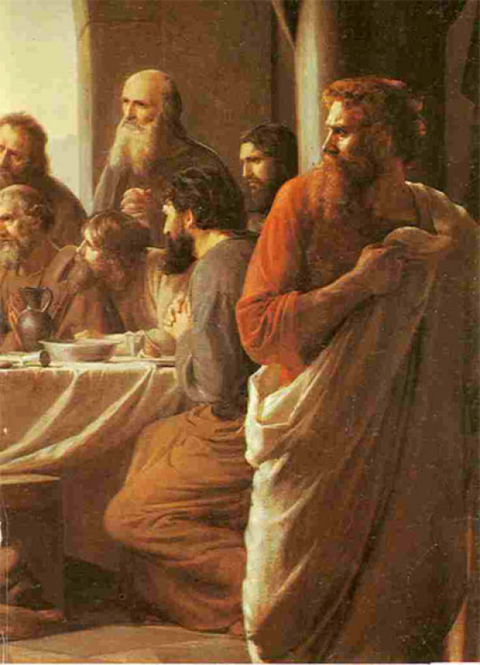 … It was only after Judas left that I instituted the Holy Eucharist. I did not want this sinner to have any part in this Holy Sacrament …
New data by Father Melvin
Yesterday Saturday was Our Blessed Mother's Feast of the Visitation to Her cousin Elizabeth. So yesterday at 2:00 pm I was called to the chapel of Our Lady of Prince Edward Island and as I knelt down before the altar, Our Blessed Mother was there and she spoke to me for over 15 minutes. The message will be in the next newsletter which will come out in June.
PS Today is the Feast of the Ascension of the Lord. After forty days after His resurrection from the dead, He left the Apostles and returned to heaven to sit at the right hand of the Father. He had accomplished His great work to redeem us. He is always ready to help us with all the graces and help that He gives every day. He had to go to heaven so that the Holy Spirit could come down and it was ten days after His Ascension that the Holy Spirit came and next Sunday we will celebrate the Feast of Pentecost which is the day that the Holy Spirit came upon the Apostles. Open your hearts to receive the Holy Spirit once more.
The Betrayer
A reading from the Gospel of Saint Matthew 26, 20 – 25:
When it was evening, Jesus reclined at table with the Twelve. And while they were eating, Jesus said, "Amen, I say to you, one of you will betray me." Deeply distressed at this, they began to say to him one after another, "Surely it is not I, Lord?" He said in reply, "He who has dipped his hand into the dish with me is the one who will betray me. The Son of Man indeed goes, as it is written of him, but woe to that man by whom the Son of Man is betrayed. It would be better for that man if he had never been born." Then Judas, his betrayer, said in reply, "Surely it is not I, Rabbi?" He answered, "You have said so."
Below you will find the message of Our Lord and Savior given to Father Melvin. Jesus spoke to him these words,
"I want you to remember always My brother Melvin and all My brothers and sisters that Holy Thursday of Holy Week is a very important day. That was the day I celebrated with the Apostles the First Mass and I instituted the Holy Eucharist. However, before the institution of the Holy Eucharist, I told the Apostles that one of them was to betray Me. They could not believe this and they all asked, "Surely it is not I, Lord?" I knew of course who he was who would betray Me and I talked in a strong manner against him. I said that it would be better if that man had never been born. After I spoke these words, Judas asked Me, "Surely it is not I, Rabbi?" I told him that he was the one. After that Judas left to go and betray Me. It was only after Judas left that I instituted the Holy Eucharist. I did not want this sinner to have any part in this Holy Sacrament.
There are some even today that act as Judas did. They commit all kinds of horrible sins against Me. Some say that I am not the Son of God nor the Savior of the world. Others have killed My followers for no reason but only because they believed in Me. So many have broken the Ten Commandments to offend Me and just to follow the ways of the evil one. I call on all those people to repent of their sins and never sin again. Come My friends and follow Me and you will be blessed. I love you all."