The Cursing of the Fig Tree - Father Melvin - May 11, 2014 – Do you have great faith … (you) who live in every part of the world?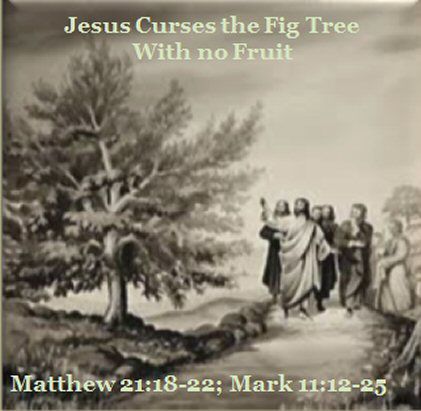 … With great faith, My power will come upon you and change you completely and fill you with peace, love and joy. Even if you have to suffer, I will give you the strength to suffer in peace and never to forget that I suffered terribly for your salvation …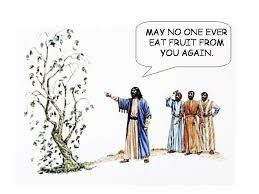 New data by Father Melvin
It is slowly getting warmer every day. Today it reached 14 degrees Celsius and in a few days it will reach 16 degrees. We know feel that we are in the time of Spring and the grass is turning green and the flowers are being to grow. The trees are budding and soon the leaves will be out. I love this season.
PS. I wish you all a beautiful Sunday, the 4th Sunday of Easter, and may the Lord bless you at church during Holy Mass. May He strengthen your faith so that you can offer yourselves completely to Him to do His will. I am praying for you every day.
The Cursing of the Fig Tree
A reading from the Gospel of Saint Matthew 21, 18 – 22:
When Jesus was going back to the city in the morning, he was hungry. Seeing a fig tree by he road, he went over to it, but found nothing on it except leaves. And he said to it, "May no fruit ever come from you again." And immediately the fig tree withered. When the disciples saw this, they were amazed and said, "How was it that the fig tree withered immediately?" Jesus said to them in reply, "Amen, I say to you, if you have faith and do not waver, not only will you do what has been done to the fig tree, but even if you say to the mountain, 'Be lifted up and thrown into the sea,' it will be done. Whatever you ask for in prayer with faith, you will receive."
Below you will find the message of Our Lord, the Son of God, given to Father Melvin. Jesus spoke to him these words,
"Do you have great faith My brother Melvin and all My brothers and sisters who live in every part of the world? You need to have great faith and you will be able to do great things. You read what I did to the fig tree when I went to it hoping to find some figs to eat but I did not find any. I told the tree that it will not produce any more fruit, it immediately withered and died. This is the power of faith that was at work. You could do the same if you have strong faith.
Pray My dear friends that your faith becomes strong like I have shown you. With strong faith you can overcome all problems especially problems of fatigue, depression, pain and sorrow. With great faith, My power will come upon you and change you completely and fill you with peace, love and joy. Even if you have to suffer, I will give you the strength to suffer in peace and never to forget that I suffered terribly for your salvation. Suffering brings about great conversions and great miracles in the world, if you suffer with Me. Remain close to Me at all times and offer Me all your suffering. I will use it to help many who are in need of conversion and healing. I love you and I bless you."