The Resurrection of Jesus - Fr Melvin - April 209, 2014 – Rejoice … for the great day of My Resurrection has arrived …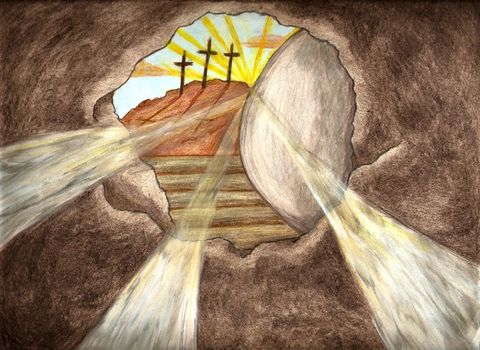 … The first one who saw Me risen from the dead was My Mother. I went to see Her as soon as I was raised from the dead …
New data by Father Melvin
Holy Saturday is the day of great expectation. It was the day that the disciples and Our Blessed Mother were waiting for the great event that Jesus had announced to them. He had told them that three days after His death, He would rise from the dead. It would be the great day of His Resurrection. The Apostles were all gathered in the Upper Room praying.
The Resurrection of Jesus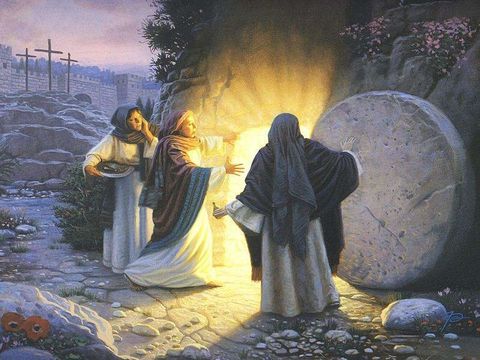 A reading from the Gospel of Saint Matthew 28, 1 – 10:
After the Sabbath, as the first day of the week was dawning, Mary Magdalene and the other Mary came to see the tomb. And behold, there was a great earthquake, for an angel of the Lord descended from heaven, approached, rolled back the stone, and sat upon it. His appearance was like lightning and his clothing was white as snow. The guards were shaken with fear of him and became like dead men. Then the angel said to the women in reply, "Do not be afraid! I know that you are seeking Jesus the crucified. He is not here; for he has been raised just as he said. Come and see the place where he lay. Then go quickly and tell his disciples, 'He has been raised from the dead, and he is going before you to Galilee; there you will see him.' Behold, I have told you." Then they went away quickly from the tomb, fearful yet overjoyed, and ran to announce this to his disciples. And behold, Jesus met them on their way and greeted them. They approached, embraced his feet, and did him homage. Then Jesus said to them, "Do not be afraid. Go tell my brothers to go to Galilee, and there they will see me."
Below you will find the message of Our Lord and Savior given to Father Melvin. Jesus spoke to him these words,
"Rejoice, rejoice My brother Melvin and all My brothers and sisters for the great day of My Resurrection has arrived. It was early on Sunday morning that the angels came and removed the stone from my tomb and at the same time I came back to life. I had now a resurrected body and so I could not suffer anymore nor feel hungry or thirsty or die again. I am now completely resurrected from the dead and I will live forever. I can appear to people at any place and at any time and that is what I did. The first one who saw Me risen from the dead was My Mother. I went to see Her as soon as I was raised from the dead. My visit brought Her great joy and I embrace Her and blessed Her. I also appeared to two men on the way to Emmaus. They did not recognized Me at first but they did after some time. What joy filled them too and they returned to Jerusalem to tell the Apostles. I also appeared to the Apostles and it took some time for them to accept that I was truly resurrected. When they finally knew that I was the one, great joy filled their hearts too.
My dear friends I want you to be filled with joy today the day of My Resurrection. Come to Me and see that I am truly risen from the dead. I am your Savior and also your Friend and your Brother. I bless you all."