The Unknown Day and Hour - Father Melvin - May 23, 2014 – I especially call all of you to pray the rosary every day …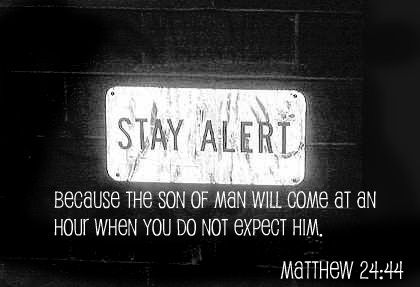 … except God the Father … Nobody knows if it will be this year, or next year or 100 years from now. However, My Son Jesus tells you all that you must always be prepared for that day …
New data by Father Melvin
I had many people who came to visit me during this past week. I had some people from the Province of Alberta, others from the Province of Quebec, still others from the Province of New Brunswick and others from Prince Edward Island. They all came to see me because they needed healing. I prayed with all of them and the Lord has touched many of them. I continue to pray for them that in time they will all be healed.
P.S. Although it rained this morning (Friday) it was very nice in the late afternoon and the sun was shining in the evening. It was chilly in the morning but it turned warmer in the evening. I am praying for all those who read these massages. I bless you all.
The Unknown Day and Hour
A reading from the Gospel of Saint Matthew 24, 36 – 44:
Jesus said, "But of that day and hour no one knows, neither the angels of heaven, nor the Son, but the Father alone. For as it was in the days of Noah, so it will be at the coming of the Son of Man. In those days before the flood, they were eating and drinking, marrying and giving in marriage, up to the day that Noah entered the ark. They did not know until the flood came and carried them all away. So will it be also at the coming of the Son of Man. Two men will be out in the field; one will be taken, and one will be left. Two women will be grinding at the mill; one will be taken and one will be left. Therefore, stay awake! For you do not know on which day your Lord will come. Be sure of this: if the master of the house had known the hour of night when the thief was coming, he would have stayed awake and not let his house be broken into. So too, you also must be prepared, for at an hour you do not expect, the Son of Man will come."
Below you will find the message of Our Blessed Mother given to Father Melvin. She spoke to him these words,,
"I bless you My son Melvin and all My sons and daughters who have a great devotion to Me. The Bible passage which is part of this message is very important indeed. You know that the world will end one day. However, nobody knows when it will be except God the Father. Nobody knows if it will be this year, or next year or 100 years from now. However, My Son Jesus tells you all that you must always be prepared for that day.
How should you prepare for this great day? What you have to do is to believe in Jesus, your Lord and Savior. He is the only Savior of the world. Have great faith in Him and develop a close relationship with Him through prayer. The great prayer that brings you close to My Son is contemplative prayer. This is a heart to heart prayer with Jesus. If you practice this prayer then My Son Jesus will lead you everyday along the right path and you will not have to fear the coming of the end of the world. I especially call all of you to pray the rosary every day. This is My special prayer which I want every Christian to pray at least once a day. All Catholics have to go to church every Sunday. They need to repent of their sins by receiving the Sacrament of Penance and when they go to Holy Mass then they can come and receive Holy Communion. If Your Savior dwells in your heart, then you do not have to fear the end. He will guide you and protect you. I bless you all."