The Vision of Cornelius - Father Melvin - July 24, 2014 – I bless you … who have opened their hearts to Me so I can … live in your hearts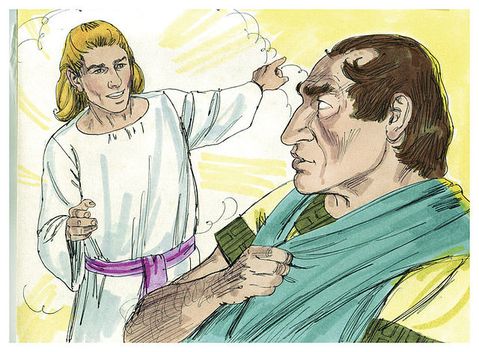 … A good number of people even today receive a strong inspiration to do something or to visit some people for they are in need …
New data by Father Melvin
I offered a Healing Mass at a church near the city of Quebec and there were two men there with cancer. They both came to me and asked for prayers to be healed from their cancer. I prayed for them and after a few days they went to see their doctors and he sent them to the hospital for tests. When the results came back they were astonished as they did not have cancer any more. There was not a trace of cancer in their bodies. I thank the Lord for these great miracles.
PS. We had a warm day on Wednesday but it did not rain. We should have some rain during the night and tomorrow.
The Vision of Cornelius
A reading from the Acts of the Apostles 10, 1 – 8:
Now in Caesarea there was a man named Cornelius, a centurion of the Cohort called the Italica, devout and God-fearing along with his whole household, who used to give alms generously to the Jewish people and pray to God constantly. One afternoon about three o'clock, he saw plainly in a vision an angel of God come in to him and say to him, "Cornelius." He looked intently at him and, seized with fear, said, "What is it, sir?" He said to him, "Your prayers and almsgiving have ascended as a memorial offering before God. Now send some men to Joppa and summon one Simon who is called Peter. He is staying with another Simon, a tanner, who has a house by the sea." When the Angel who spoke to him had left, he called two of his servants and a devout soldier from his staff, explained to them, and sent them to Joppa.
Below you will find the message of Our Lord and Savior given to Father Melvin. Jesus spoke to him these words,
"I bless you My brother Melvin and all My brothers and sisters who have opened their hearts to Me so I can come and live in your hearts and bring you My light, My love, My joy and My gift of faith.
The man Cornelius was one who had great love for Me and who prayed regularly and gave alms to help the poor. I am the one who sent the angel to go and visit him and to tell Cornelius to call Saint Peter that he may come to teach his family and to bless them and to give them all the sacrament of Baptism. Cornelius became afraid when he saw the angel but he did exactly what the angel told him. He sent two men to Joppa to ask Peter to come to his house.
A good number of people even today receive a strong inspiration to do something or to visit some people for they are in need. You were inspired one day My brother Melvin to go and visit a person and when you arrive there you found that this person was sick and was alone and she needed help. You were able to pray for her and she got better. While in the USA, you were also inspired one day to pray for a person who was in great need. You prayed for that person and the next day you met that man and you asked him what had happened to him the day before. This man had lost the use of both kidneys and he had to go on dialyzes about two times a week. What happened the day before was when he was on the machine, his blood started to clot and the nurse thought sure he would die. She called the doctor and when he saw this, he too thought that he would die. But all of a sudden the clotting stopped and he was all right. That was when you prayed for him. I asked you to take note of the inspiration of the Holy Spirit and act on it. I bless you all."